Help us to build the future!
Help us to build the future!
The greatest touch table of the world is on its way!
Créez votre propre sondage de satisfaction des utilisateurs
Kineti's teams have been working the past 7 years to create a working touch table.
Good news, now it is exists and it works!
At the moment, it looks like this:
Video en anglais
http://www.youtube.com/embed/nC0DE7RUJFE?autoplay=1
We have now the ambition to deliver to the world the greatest touch table you could expect, and that is why we need you today!
We now need to know what you would love it to do in order to improve what we've done so far.
That is why we would be very grateful to you if you would like to share what you think and answer a few questions, it just takes a few minutes
Let us build the future!
Click here to help us to create the greatest touch table
How we got there:
One night in 2010,  I was with friends having a laugh and chatting around a table. And along the discussion as usual we showed each other google searches, images or videos to each others thanks to our smartphones and tablets. And this was not convenient at all as I had to show to my friends one after the other. And that is at this exact moment we thought it would be great if the wooden table we were sited around could become a giant tablet where we could share and see anything we like.
That would be a huge challenge! We were all very excited and we decided to take it.
And then for 2 years, we made some research and development in our garage with a lot of friends, engineers and specialists to see if we could come close to what we could call a touch table!
And guess what? After 2 long years, YES! We made it!
Ok! I need to calm down because it was technically roughly working but apart from that everything was howfull!!!! The surface was not flat because of the touch technology, so a pain to clean. The touch technology needed to be restarted often. The touch technology was not reactive enough compared to what we all are used to: smartphone and tablets…
Anyway, it was working but was nothing greatest than a poor proof of concept.
We continued then to spend time and money to improve it. Finally, After one more year, in 2013, we can say we succeeded. YEAAAAH! Finally, we had a strong table where we can put anything on it with a great touch interaction.
And during that time, we also realized that two small players was in our game. Guess who? Do not worry too much they are tiny!......Ready? Microsoft and Samsung!!!
DAMN! We thought the game was over and we could forget our dream to deliver to the world a nice touch table to do TOGHETHER what we all do alone with smartphones and tablets.
But nothing to loose anymore we decided to meet Microsoft to see what they got. We met the in an exhibition we participated in Paris. (BTW: we are French… This explains also my poor English, sorry!) They invited us in their European headquarters in Paris to introduce us to their "microsoft surface" touch table. (Yeap! before they called their tablets "surface", it was a table…
And, I have to reckon we were impressed! But by their building and not by their touch table! ;o) It actually was working as our first version but as our great surprise our V2 was much better. The dream is back!.
We took the opportunity to offer to Microsoft people to come to see in details our touch table and they saw it was absolutely great…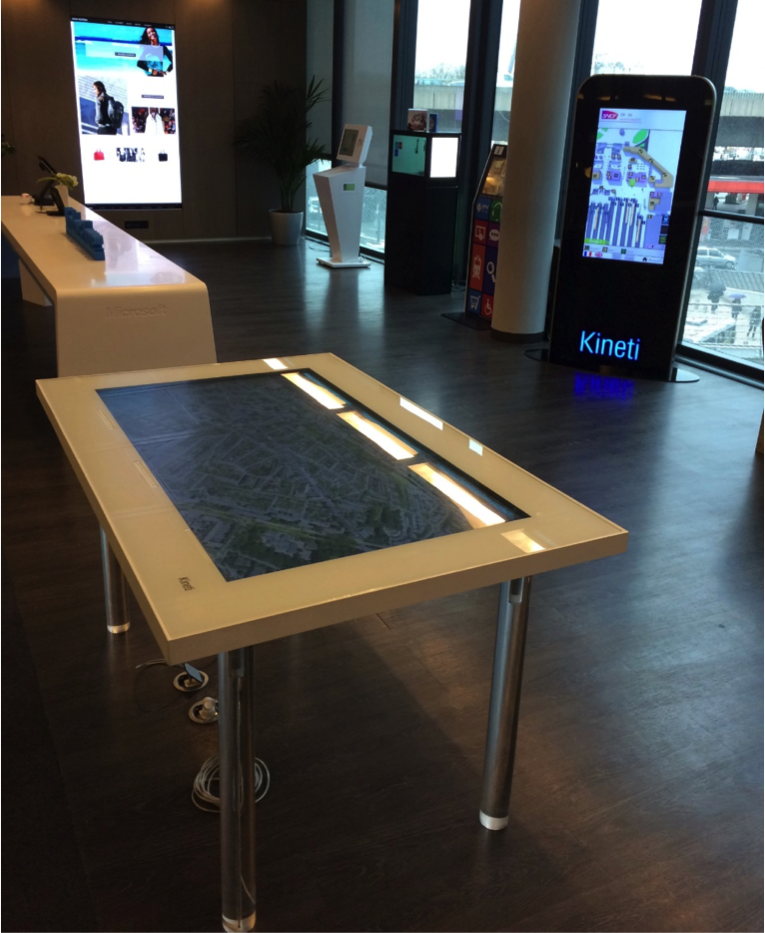 And then to make a long story short, after some time in 2013, they called us back and offered us the possibility to have our V2 touch table in their showrooms in Paris and Dubai in their Microsoft Technology Centers (M.T.C. for the Micrsoftees).
This has been a great and strong greatfullness sign for us! Since then, a few others have appreciated our work and offered us some very nice prices.
2014: Kineti Technologies was selected as one of the 200 most promising projects in France to take part in the 'Osons la France, les 200 bâtisseurs' show at the Grand Palais in Paris  
2015: One of the 10 European finalists in the EIT Digital challenge 
2016: C.E.S. Innovation award in Las Vegas with CastByGenii, a box concept to allow you to share your TV channel to your friends and chat with them at the same time
2016: Platinium award (one of the 10 winners) of the innovation competition organized by Publicis amongs 3516 projects in the world for La Kineti Touch Tabl
2017: Audience Award in La Foire de Paris
This is how we get come to toaday, and now we need  you, we need your help to pursue this great adventure, we need to have a better understanding about what you expect from such a touch table.
So please!
Help us to deliver to the world the best touch table ever!
Please click this button and spend a few minutes to answers a few questions
to invent the best ever touch Table!
Thank you very much in advance
Fabian Humbert
Founder and CEO
Kineti Technologies